Who is likely to win in the newly paired House of Delegates and Senate districts? Lowell Feld over at bluevirginia.us has done an excellent analysis of how this may all play out. I found many of these matches interesting but this one warmed my heart because it's likely I won't lose my excellent delegate Dave LaRock (no offense to Delegate Webert):
"HD30 (Trump won 50.1% of the vote here in 2016): Delegates Dave LaRock (R) and Michael Webert (R) "paired." Based on the Clinton/Trump vote and the following "voting age population"  "shifting voters" numbers, it looks like Del. LaRock, sad to say, would have a big advantage over Del. Webert in this new district."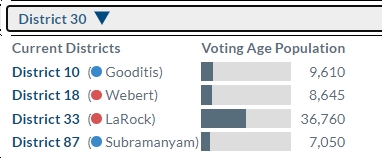 See all the new pairings and their likely outcomes here.