In a Fox News poll released this evening, Republican Glenn Youngkin has moved ahead of Terry McAuliffe in the Virginia Governor's race, 53 to 45% among 1,015 likely voters.
So what has changed in recent weeks? First, Republicans are more enthusastic about their candidate,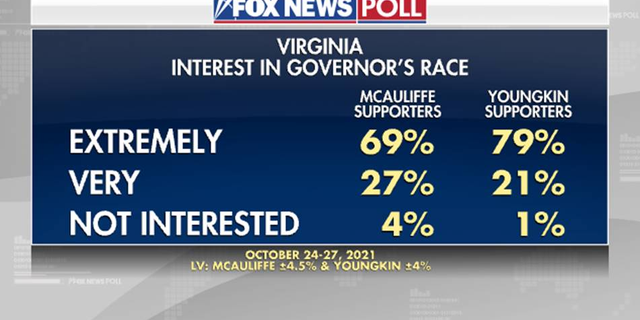 Second is voters attitudes toward what is happening in our schools has shifted.
From Foxnews.com:
Youngkin promises to ban the teaching of critical race theory on his first day in office, while McAuliffe denies CRT is even taught in Virginia schools. In addition, McAuliffe is still explaining his comment in the final debate that parents shouldn't "be telling schools what they should teach."
The survey, released Thursday, finds movement in the views of parents. They backed McAuliffe by 10 points two weeks ago. Now, they go for Youngkin by 14. On the question of which candidate they trust to handle education, Youngkin's previous 1-point edge among parents has widened to 12.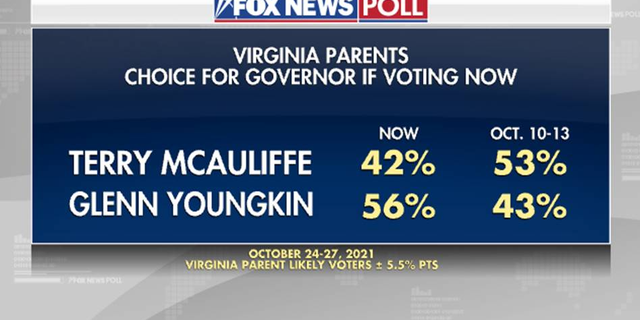 Youngkin is now ahead on the top 4 issues of concerns to Virginians: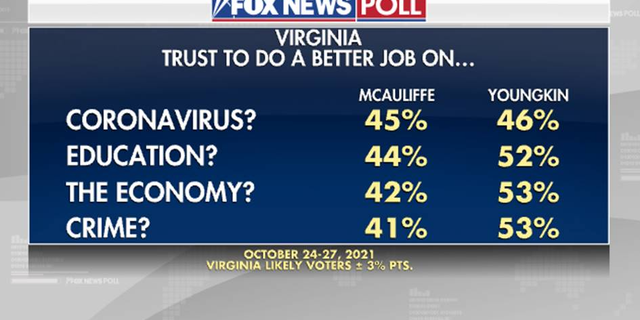 Full poll results are here.
Nate Silver of fivethirtyeight.com rates Fox an A on their polls. As of tonight Silver averages the polls and finds the candidates dead even at 47.1% to 47.1%. RealClearPolitics.com has Youngkin up by 0.4%. But if you look at the trajectory of the polls, Youngkin is winning. The momentum is definitely with Republicans.